All good things come to an end, and the BetterPoints Pushing Ahead Norfolk Challenge, which has been running for two years, will end on 31st May 2020. This challenge, which was in partnership with Norfolk County Council and the Pushing Ahead partnership, encouraged and rewarded residents of Norwich and Great Yarmouth to increase their walking, running and cycling activities within the area.
Over 2,700 people took part in the challenge, and here are the highlights. More than 236 tonnes of CO2e were potentially avoided through active travel.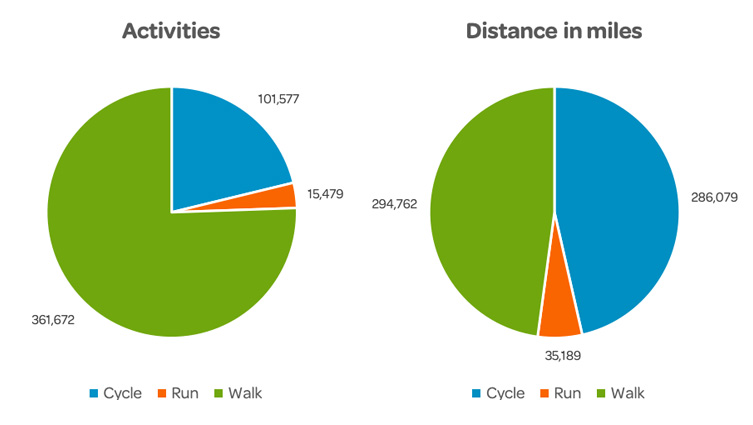 The feedback from residents has been inspiring - check out some of the stories below.
How BetterPoints and Active Norfolk are keeping me fitter since my heart attack
Adapting to change in 'Pushing Ahead'
The app fills the gap when my enthusiasm for being active drops
Making habits stick with Pushing Ahead Norfolk
We are sending out an exit survey so that Norfolk can get your feedback on this type of challenge to help them craft new and interesting challenges for you in the future. For every person completing the survey, there is a chance to win a prize ranging from 5,000 to 25,000 BetterPoints. The survey is available from 19th May until 31st May.
Frequently Asked Questions
Q: Can I carry on using the BetterPoints app?
A: Of course, there is a national challenge, through which you will be able to earn BetterTickets for weekly prize draws.
Q: What happens to my BetterPoints?
A: You don't lose your BetterPoints, and you can spend them at any time as long as you maintain some activity within a 12 month period.
Q: Will there be more BetterPoints Challenges within the Norfolk area?
A: There may be and Norfolk County Council are evaluating their plans for the rest of 2020, with due consideration of the current Covid-19 Pandemic and the government guidelines.